e-mail: firstname.lastname@uta.fi
Mervi Vänskä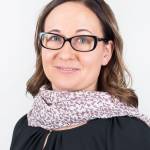 Mervi Vänskä is a postdoctoral researcher and teacher at the Faculty of Social Sciences, Psychology, Tampere University, Finland.  She holds a PhD in the field of Developmental psychopathology. Her research contributions are in the areas of: 1) mental health and wellbeing in the transition to parenthood among families with psychological or medical traumas; 2) early bio-psycho-social risk factors of child development; 3) self-regulation and psychophysiological stress regulation as underlying mechanisms of child development; and 4) intervention research that aims at enhancing the wellbeing of children and families with traumatic histories. In the RefugeesWellSchool study, Mervi is engaged in supervising teachers in completing the INSETT and PIER interventions in Finnish schools. She will also contribute to research concerning impacts of these interventions.
Reeta Kankaanpää
Reeta Kankaanpää is a doctoral researcher at the University of Tampere, Finland. She specializes in measurement validity and reliability of the questionnaires. Reeta wrote her Master's thesis on testing the validity of multidimensional well-being indices, and is now interested in the measures in RefugeesWellSchool questionnaires. Previously she worked in a study testing the effectiveness of quasi-experimental complex interventions promoting integration of adult refugees.
Kirsi Peltonen
Kirsi Peltonen is a senior researcher and lecturer at the Faculty of Social Sciences, Psychology, Tampere University, Finland. She hold a title of docent in Mental Health Psychology. Her research has focused on mental health of violence exposed children and adolescents as well as on interventions targeted to them. Especially, she has studied interventions among refugee children. In the RefugeesWellSchool study, Kirsi wants to use her skills and knowledge about efficacy and effectiveness research and training of professionals.