Core people
Salla Atkins

My research focuses on cash grants and their impact on health and wellbeing. Firstly, I focus on multisectoral interventions for social and health care, particularly connecting patients with poverty-related diseases with social protection mechanisms such as disability grants. Secondly, I will focus on how gender influences the outcomes and delivery of conditional and unconditional cash grants, and thirdly on qualitative systematic reviews for policy influence and change. My project is funded by the Swedish Research Council through my ongoing association with Karolinska Institutet.
I received my doctorate from Karolinska Institutet in 2011 on an evaluation of a tuberculosis treatment adherence model in Cape Town, South Africa. I have over 15 years of experience using social science methods to study health and medicine, mainly from low-and middle-income contexts. During my postdoctoral period at Karolinska Institutet, I managed two EU-funded projects focusing on research capacity building in health systems and services research and research on social determinants of health (ARCADE HSSR and ARCADE RSDH – project website here). In total, the projects developed over 40 courses using innovative learning methods and trained over 900 students in Africa, Asia and Europe.
I am an active member of the Health Systems Global social science approaches for research and engagement in health policy & systems and teaching and learning thematic working groups. I remain affiliated to Karolinska Institutet Department of Public Health Sciences (Global Health/IHCAR).
Research Gate profile and publications here.
Faculty of Social Sciences webpage at the University of Tampere here.

Rebecca Boden

I am the Research Director of the NSR programme. I started my career with a PhD in public administration at the University of Manchester, but a period as a senior tax inspector in the UK combined with significant changes in the way in which the public sector operated from the 1980s gave me a  very different perspective on how 'the public' can be understood and managed. I returned to the academy, but this time as a critical accounting academic. Throughout my career I have pursued how regimes of accounting and management control discursively frame organisations.
My principal research interest now how the funding and management of knowledge creating organisations, especially universities, affects them and the knowledge that they produce. In particular, I address how the increasing financialisation and marketisation of universities globally is affecting them. I am currently exploring senior pay packages in universities and exploring the effects and implications of student loan systems. I also work in the field of critical studies in tax and undertake qualitative work on trade credit in the UK.
Jouni Häkli
I am Professor or Regional Studies and the vice director of the NSR programme. I also lead the Space and Political Agency Research Group (SPARG) and direct the University of Tampere part of the Centre of Excellence in Research on the Relational and Territorial Politics of Bordering, Identities and Transnationalization (RELATE) funded by the Academy of Finland.
My research lies at the intersection of political geography and global and transnational sociology, with focus on the study of political subjectivity, political agency, forced migration and transnationalization. I am particularly interested in the political agency of people in vulnerable positions. I have also studied discourses and practices of territoriality, borders and national identities, urban planning and civic participation, and the methodology of human geography.
I have lead several collaborative and international research projects, and participated extensively in the evaluation of research projects for international funding agencies and the Academy of Finland. I am editorial board member in several key journals in my research field, such as Progress in Human Geography, Political Geography and National Identities. I have authored more than 170 scientific publications of which more than 70 are peer-reviewed articles and book chapters. I have also edited several internationally published books.
Anitta Kynsilehto

My research encompasses global mobility, different forms and practices of solidarity and resistance, and the concept and practical implications of intersectionality. My publications include Gender and Mobility: A Critical Introduction (with Elina Penttinen) and Choreographies of Resistance: Mobile Bodies and Relational Politics (with Eeva Puumala, Samu Pehkonen, Tiina Vaittinen and Tarja Väyrynen), both with Rowman and Littlefield in 2017, and several articles and book chapters. In my current work, I focus increasingly on mobilities in the so-called Global South, especially within the African continent, and in possibilities and forms of decolonizing knowledge production.
I received my doctorate in Political Science from the University of Tampere in 2011. Prior to joining the NSR programme, I worked at Institute for Advanced Social Research (UTA), Nordic Africa Institute in Uppsala, Sweden, and Tampere Peace Research Institute (Tapri/UTA), where I continue to teach and supervise at the International Master's Programme PEACE. I served at the board of Nordic Society for Middle Eastern Studies (NSM) in 2008-2013, and during 2012-2018, I served at the executive committee of EuroMed Rights (formerly Euro-Mediterranean Human Rights Network) as the board member in charge of migration and asylum.

Asko Lehmuskallio

I am particularly interested in how cultural, technological and political factors mediate ways of seeing. My publications address ways of seeing by paying attention to visual forms, material mediations, mobile practices, interpersonal boundary negotiations and digital technologies.
At NSR I pay specific attention to 1) the mediality of the face, 2) digital visuality, and 3) values in the design of a digitally mediated sociality. My research lies at the intersection of visual studies and media studies, being inspired by interdisciplinary scholarship, including work published in the fields of media anthropology, science and technology studies and computer-supported co-operative work. Theoretically I follow the lines of practice-theoretical studies that foreground mediation, and am particularly interested in the dynamic relations between change and normalisation, especially as they tie in with the interrelations of bodies, technologies, and visual cultures.
Before taking up my current position at Tampere, I've been at various universities in Europe and the US, including Philipps-Universität Marburg, Hochschule für Gestaltung Karlsruhe, Universität Siegen, Universidad Complutense de Madrid, Aalto University and UC Berkeley. Additionally, I've completed a professional education short program at MIT Media Lab and co-curated a large exhibition called #snapshot at the Finnish Museum of Photography.
I chair the European ECREA TWG Visual Cultures. 

Mianna Meskus

My interdisciplinary work is grounded in sociology, science and technology studies, and gender studies. I explore, how conditions of humanity are shaped in contemporary society through science and technology and what forms of inclusion and exclusion the changes entail. My research focuses particularly on the ethical, political and personal dimensions of genetics, reproductive medicine and stem cell science. In a recent project on biomedical craftwork, I studied the affective, embodied and relational basis of doing bioscience and the role of patients in knowledge production, published in my book Craft in Biomedical Research: The iPS Cell Technology and the Future of Stem Cell Science (2018).
I lead the academy research project VALDA: Valuating Lives through Infertility and Dementia, where we use ethnographic and text analysis methods to study value creation and governance related to reproduction and ageing. I am also co-founder and leader of the Finnish Reproductive Studies Network (FiResNet).
Before joining the NSR programme, I worked at University of Helsinki as Academy Research Fellow, University Lecturer in Science and Technology Studies, and Academy Postdoctoral Researcher. I have been a visiting research fellow at London School of Economics and Political Science, King's College, London, and University of Cambridge.
(Links to) CV and publications here

Elina I. Mäkinen

I am an organizational researcher who studies collaborative processes at knowledge and occupational boundaries. My research focuses on the multi-professional and collaborative process of translating scientific knowledge into medical practice. In order to capture how translational processes develop over time, I rely on organizational process research. I have published, for instance, in Science, Technology, & Human Values, Science as Culture, Informing Science, and the Journal of Pediatrics.
At NSR, I will study medical innovation projects at varied developmental stages and in different organizational contexts. My dissertation project at Stanford University focused on a newly formed translational research center in the field of medicine and covered the stage of scientific discovery. I am now studying health and life science innovation projects at the development and implementation stages in which scientific discoveries become validated, patented, commercialized, and implemented in healthcare settings.
Before joining NSR, I have conducted research at Finnish Institute of Occupational Health, Stanford University, Faculty of Management (UTA), and Institute for Advanced Social Research (UTA). You can find out more about my work here and here.

Thomas Olsson
My research is about human-technology interaction and computer-supported cooperative work, focusing on critical design of new technological artefacts and understanding the experiential and social implications of information technology. I address questions like how to meaningfully enhance social interaction and bring relevant people together with the help of ICT; how ICT shapes social behaviour and impacts social structures and practices; and how to design for socially acceptable and sustainable technologies.
Currently I lead projects about (1) social matching of knowledge workers based on data analytics of Big Social Data, and (2) understanding how the user interface mechanisms in digital media influence the users' emotional responses and communication behavior. My earlier research topics cover, e.g., design and evaluation of user experience, multi-device and multi-user human-computer interaction, extended reality technologies, and playfulness of ICT.
Before joining the NSR programme as an associate professor I was an adjunct professor and post-doctoral researcher at Tampere University of Technology. As part of international activities, I've been a visiting researcher at University of Stuttgart and University of Oldenburg. I have authored over 80 publications in international forums, including top-tier conferences, such as CHI and CSCW. I actively review for journals, such as Human-Computer Interaction, Interacting with Computers, and Human-Computer Studies.
For more info, check my personal page, our research group pages and list of publications in Google Scholar.

Nelli Piattoeva
I research entanglements between education policymaking and the wider society, examining education as a means of governance and the means of governing education, and deploying social theory in the analysis. My current research agenda looks at the intertwined processes of transnationalisation and datafication of education policymaking. I am particularly interested in how the production and use of national and international large-scale assessments of learning outcomes act as technologies of education governance at a distance.
I also research about and advocate for the importance of troubling expert- and Western-centered practices of knowledge production on education from a post-colonial and decolonial research perspective. I am a collaborator on a research project that seeks to re-narrate socialist and post-socialist histories in general and childhood and schooling under socialism and post-socialism in particular through memories of cultural insiders and research produced in the region.
I received my doctorate from the University of Tampere in 2011; my dissertation analysed changes in school-based citizenship education in the context of nation- and state (re)-building processes in post-Cold War Finland and Russia. Since then, my primary geographical focus of research has been Russia and the post-Soviet space. In 2017-2018 I was a visiting scholar in the Centre for Comparative and International Education, Humboldt University, Berlin. I co-lead a research group on Knowledge, Power and Politics in Education (EduKnow) and, among other academic duties, co-edit a newly established open access Nordic Journal of Comparative and International Education.
See here for my Research Gate profile and publications, here for my research group EduKnow, and here for the project "Re-Connect / Re-Collect: Crossing the Divides through Memories of Cold War Childhoods".

Olli Pyyhtinen
My work centers especially on relational thought, tackling the new challenges, problems, issues, and developments we are currently facing by taking relations and processes as its key notions. My research intersects social theory, philosophy, science and technology studies, economic sociology, and art studies and has three distinct yet interrelated broad pathways or trajectories: (1) The reappraisal of classical sociology and the rediscovery of neglected, forgotten, or undervalued relational ideas and authors in the history of the social sciences (esp. the work of Georg Simmel); (2) more-than-human sociology, a sociology taking seriously the share of objects and materials in the constitution of our social life; (3) exploring and experimenting with artistic and fictional forms in theorizing and scholarship (I am interested in particular in writing as a method of inquiry, sociology as a form of storytelling, and how fiction and narratives may construct and perform social relations, feelings, and subjectivities).
I've published in several journals and am the author of the books The Simmelian Legacy: A Science of Relations (2017), More-than-Human Sociology (2015), The Gift and Its Paradoxes (2014), and Simmel and 'the Social' (2010), as well as one of the authors of Tervetuloa jäteyhteiskuntaan! Aineellisen ylijäämän kanssa eläminen (2019; with J. Valkonen, T.-K. Lehtonen, V. Kinnunen & H. Huilaja) and Disruptive Tourism and Its Untidy Guests (2014; with S. Veijola, J. Germann Molz, E. Höckert and A. Grit). I have also edited a book and journal special issues.
My current project deals with the sociology of waste, exploring waste at the heart of social life. I am also the founder of the Relational Studies Hub.

Ali Qadir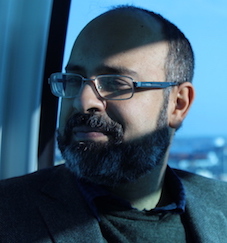 My research centres on global and transnational sociology, especially  epistemic governance in our era of modernity. In this field, I have been examining national policy-making, higher education reform, global religion, and moral authorities in political discourse. The work contributes to building a neoinstitutionalist theoretical framework of epistemic governance and power. Additionally, I have worked on global radicalization in Islam, cross-cultural religious images, and social development. Presently, I hold an Academy of Finland research grant to study 'Morality in Politics' and also teach and supervise students in the Master's Degree on Global & Transnational Sociology at the Faculty of Social Sciences.
I was awarded my doctorate in social sciences from the University of Tampere in 2012 for my study on modernity in higher education reform in colonial India and in Pakistan. Besides my scholarly research and teaching, I have a dozen years of experience in social, political, and environmental development in international civil society. I have also published two-dozen works for general and professional communities, including briefs for policymakers.
I am an active member of the Tampere research group for Cultural & Political Sociology. Since 2016, I hold the Title of Docent in Ethnic Relations at the Swedish School of Social Sciences, University of Helsinki, and since 2013 am Honorary Fellow at the Center for the Study of Gender & Culture, Pakistan. I am also member of the European Sociological Association's Research Network on Global & Transnational Sociology, various associations for sociology and sociology of religion, and am on the editorial board of the European Journal of Cultural & Political Sociology as well as of the European Journal of Cultural Studies. See here for a full list of publications and here for Research Gate.
Alumni
Norma Daykin

My research focuses on arts, health and wellbeing and has three foci: examining arts impacts in complex settings, including education, health, social care, justice and the military; understanding the processes that mediate wellbeing outcomes in these settings; and developing evidence-based practice in socially engaged arts. My current research, funded by the Economic and Social Research Council as part of the UK What Works for Centre for Wellbeing, involves a series of evidence reviews examining wellbeing impacts of culture and sport (www.whatworkswellbeing.org).
I am the author of over 80 research papers, book chapters and reports, and am executive co-editor of Arts & Health: An international journal for research, policy and practice, published by Taylor Francis. I have twice received the Royal Society of Public Health's research award for innovative and significant contributions to arts and health research. I served as an advisor to the UK All Party Parliamentary Inquiry into Arts, Health and Wellbeing (www.artshealthandwellbeing.org.uk/APPG). I am also the author of Public Health England's Arts and Health Evaluation Framework (www.gov.uk/government/publications/arts-for-health-and-wellbeingan-evaluation-framework).
Research Gate link here      Link to my profile on Google Scholar here
Jaakko Kuorikoski

My specialization is in philosophy of economics and philosophy of social sciences, and I have published widely on scientific explanation, modeling, simulation, and causal reasoning. My current research interests concern the use of different kinds of evidence in the social sciences, especially the use of research synthesis methods for integrating diverse evidence for further research as well as for policy.
I'm an advocate of the methodological school of analytical sociology and my hope is that the concept of social mechanism will assist in bringing together the currently distinct synthesis methods for quantitative and qualitative research. I am also a principal investigator in an ERA-NET research project on the social scientific relevance of neuroscience, with neuroscience of addiction and neuroeconomics as case studies.
I defended my PhD on theoretical philosophy in 2010 at the University of Helsinki. The dissertation developed conceptual tools for the clarification and evaluation of model-based explanations in the social sciences. Following this, I have worked as a post-doctoral researcher, lecturer in theoretical philosophy, and as a professor of social and moral philosophy at the University of Helsinki. In 2016 I received the Jutikkala Prize for early-career achievement in the humanities and the social sciences.
Eeva Luhtakallio
Professor of Sociology, University of Helsinki
Home page at the University of Helsinki.

Jo Shaw

Jo Shaw holds a part time Professorship within the NSR, and is the Salvesen Chair of European Institutions at the University of Edinburgh.
With her training and background predominantly in the field of European Union law, Jo's work has diversified in significant ways in the last ten years. First, she held a series of research-related management roles within the College of Arts, Humanities and Social Sciences of the University of Edinburgh, giving her experience of supporting research excellence across a wide range of disciplines. Second, her own research was supported by a series of large grants in the area of citizenship studies. This enabled her to undertake an in depth study of citizenship in south east Europe, deliberately looking beyond the bounds of the European Union. She is currently working on a study of citizenship's many dimensions, using examples drawn from across the globe.
Follow Jo's blog or follow her on Twitter. Her home page at the University of Edinburgh is here.